For current dates, please have a look at the German site.
September 13, 2021 radio concert at Deutschlandfunk Kultur
24.-26.9.2021 Festival "Tuten & Blasen" in Holzminden / workshops & concert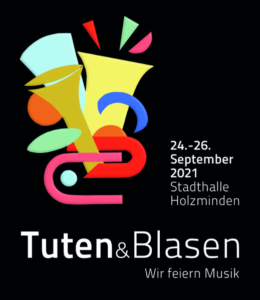 We are with workshops and concert on September 24th – 26th, 2021 at the "Tuten & Blasen" festival in Holzminden.
CONCERT: Saturday, September 25th, 7:30 p.m., Stadthalle Holzminden
Workshops
Saturday, 10:00 a.m. – 11:30 a.m.
Rhythmic concepts. Understand the groove! (Marco Frohn)
At least half of the music is rhythm, time to look at it. From reading and understanding to feeling and playing. Here you get to the bottom of the matter with Marco Frohn and in the end you will find the groove!
Saturday, 12:00 p.m. – 1:30 p.m.
The backbone of the band. Training for the rhythm section! (Marco Frohn)
Nothing is as crucial to the success of a band as the cohesion of their rhythm section. Whether drums, deep brass, piano, guitar or bass – it depends on you. Marco Frohn connects your game and suddenly nothing is impossible anymore!
Saturday, 2:30 p.m. – 4:00 p.m.
In the beginning there was the approach. Research group sheet metal. (Steffen Zimmer aka Karel Komnatoff)
Nothing is as important as your approach. The goal is persistent and precise play, and exercises, tips and examples from professional Steffen Zimmer make the way easier.
Saturday, 4:30 p.m. – 6:00 p.m.
Brass: sample set (Steffen Zimmer aka Karel Komnatoff)
In preparation for the overall rehearsal and the final concert on Sunday, we go into the details for the brass section. Sheet music will soon be available for download here.
All information here: https://musikschule-holzminden.de/angebote/tuten-blasen/#c1984
Participation costs € 25, including all workshops and tickets for the concert. The registration takes place exclusively via the homepage of the music school Holzminden. Notes will be sent in advance.
August 6th, 2021 Concert at Theater am Rand
20. Juni 2021 Berlin Pankow
36. Klima Konzert "Di grine Kuzine" live
Grüner Kiez Pankow, Bürgerinitiative
21. Juni 2021 Kulturbrauerei Berlin
9 - 12. Januar 2020 "100% Berlin" im HAU Hebbel am Ufer in Berlin
DI GRINE KUZINE im HAU Hebbel am Ufer in Berlin
Wir freuen uns, dass wir nach 12 Jahren wieder eingeladen wurden, mit den Künstlern von Riminiprotokoll (https://www.rimini-protokoll.de/website/de/project/100-prozent-berlin) zu arbeiten, nachdem das Stück  in fast 40 Städten um die Welt gereist ist – aktuell in der Kulturhauptsadt Plovdiv in Bulgarien – kommt es wieder nach Hause.
Wir sind schon selbst gespannt, was sich alles in unserem Berlin verändert hat, die "statistische Kettenreaktion", wie das Regisseurenkollektiv ihr Stück nennt, wird Aufschluss geben.
Donnerstag 9.1. 20 Uhr Premiere
Freitag 10.1. 20 Uhr Show 2
Samstag 11.1. 17 Uhr Show 3
Sonntag 12.1. 17 Uhr Show 4
25. Januar Berlin - Europäisches Vernetzungstreffen Klimabewegung
www.kulturmarkthalle-berlin.de teilöffentlich, Restkarten Abendkasse
01. März 2020 Wandlitz - Saisoneröffnung Blumenkaffee Brunch
www.blumenkaffeeschoenwalde.com
19. Juni 2020 Berlin - Berlin Brass Festival in Mitte
20. Juni 2020 Berlin - Berlin Brass Festival in Spandau/Wilhelmstadt
13.-19. Juli 2020 Finnland postphoned
18. Juli 2020 - Weimar - Hochzeit
15. August 2020 Briescht - Alte Försterei
Für weitere Informationen
Dorfstraße 39, 15848 Tauche, Brandenburg
23. August 2020 Oderberg - "Offene Höfe" postphoned to 2021
07. 09. 2020 Berlin - Schulkonzerte im Rahmen des Berlin Brass Festivals
Für die Schüler und Lehrer der Bötzow Grundschule
12. 09. 2020 Kalbe/Milde - Festival Brucca 20:30
13. 09. 2020 Berlin - Rosa-Luxemburg-Platz 14:00 im Rahmen der Gedenkveranstaltung des VVN zum Kriegsende
14. 09.2020 Berlin - Schulkonzerte im Rahmen des Berlin Brass Festivals
Für die Schüler und Lehrer der Anderson Grundschule
Click at the show for further information